Case Studies
From concept design, to manufacturing and installations, we at Interac will be the perfect company to take your brand needs to the next level, why hesitate....
See the Gallery
Work with Us
Artist Brush Unit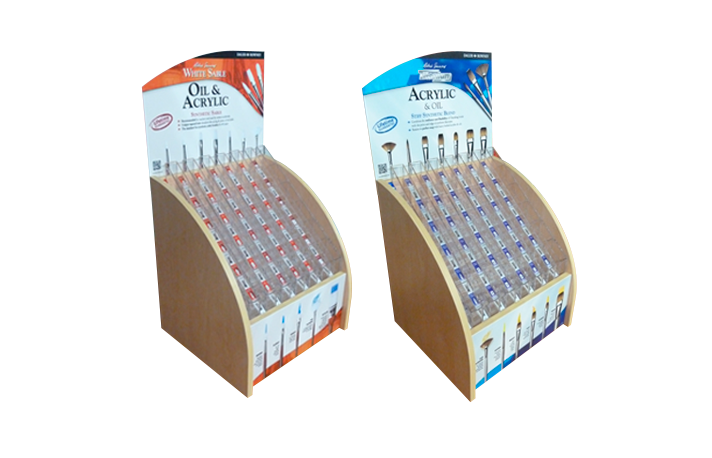 Over 20 years we worked with the brand to create a full range of merchandising to suit every item in our client product range, from pastels to portfolios.
See Case Study
Instore Concessions
We created a specialist in store concession to be displayed in Hamleys for an award winning electronic learning toy brand.
See Case Study
Waiter Stations
We created unique waiter stations and front of house podiums for a restaurant based in a premier London hotel.
See Case Study
Get in touch today and turn your vision into a reality
Work with Us
Why Interac
Interac Design is a well established, full service design and manufacturing company, with valuable experience in retail, point of sale, exhibition and hospitality design. We have close relationships with a range of highly skilled manufacturers, which in conjunction with our sister companies, allows us to produce cost effective and highly competitive solutions..
See More
Personal Touch

Every project we undertake is tailored to your own specific needs and brand requirements.

20+ Years of Experience

Our experienced staff ensure your project will meet your expectations.

Bespoke Designs

We not only supply full units but also bespoke individual items, such as pop up bars and exhibition stands.

Broad Industry Experience

We have experience in designing products for numerous fields across all sectors, from toys to paintbrushes.

3D CAD

Our clear 3D images and designs ensure you have a fully visualised representation of the project or merchandising units prior to purchase.

Excellent Reputation

Across our years of trading we have gained an established reputation for high quality products and incredibly reliable services.